Lay All Your Love On Me


Fiona Nguyen
June 25 - August 6, 2022
---
Fiona Nguyen
(b. 1995, Montreal) is a painter born and based in Montreal, Quebec. Her current research focuses on systems of cultural censorship and self-censorship experienced in totalitarian regimes, through the lens of post-war migration as well as the importance of popular music as tools for political resistance. Recent group exhibitions include "Fun & Flore" (2021) at Livart Art Center; "A Ghoul's Appetite" (2021) for Art Matters at Centrale Powerhouse; "Refraction" (2022); "Metamorphosis" (2021) at Atelier 2112 Gallery; and "Food Nature" (2020) at Rad Hourani Foundation. Fiona has pursued a bilingual education in fine art for more than twelve years, receiving her BFA in Painting and Drawing from Concordia University in 2021. "Lay All Your Love On Me" at Joys is her first solo exhibition.
---
Playlist
Concurrent to the exhibition we have initiated a public playlist made up of love songs that resonate with us. We invite you to submit a song or two that captures any shade of feeling you associate with love, and we will add the submission to the queue for all to enjoy.
From any era, love songs are among the most potent of cultural products, and for good reason. A broad category encompassing the most lust-fuelled lyrics to tales of unrequited love or utter heartbreak, these ballads animate our most intimate thoughts, fears, and desires. They are often polarizing: the difference between a love song being universally celebrated or written off as cliche can hinge on just a few bars or a single verse.

A disdain for love songs is well-aligned with a culture entrenched in patriarchal values, where sincerity and vulnerability are perceived as impediments rather than opportunities for communion. In All About Love: New Visions, bell hooks points out how our culture abides by a restrictive definition of love as being a romantic attraction between two people. While a monogamous, romantic relationship can certainly be a life-changing experience, it is not the only type of love that matters. As hooks continues, a wide spectrum of kinship and relations can constitute love, such as friendship, familial bonds, or self-affection.

In her first solo exhibition, Lay All Your Love On Me, Fiona Nguyen explores the expansive psychological and political dimensions of love songs as a way to interpret the present and recent past. Starting from the sentimentality of twentieth-century French love songs (a favourite among Fiona's relatives when she was young), a series of paintings and drawings depict performers mid-song. Each vocalist becomes a member of an imagined collective chorus; a mosaic that represents the emotional spectrum of possibility for what love actually is and can be. The simultaneous ultra-specificity and universality found in many lyrics emphasizes the value of communion, of bringing our voices together. At the same time, we are only given an isolated fragment of each performance, with little to no external information to help contextualize them. Encountering depictions of the aural domain through the visual produces inherent ambiguity that intensifies into suspense when partnered with the suggestion that love is their subject.

Through her work, Fiona is interested in unpacking the political weight that love songs have carried throughout history as tools of cultural assimilation and soft power. For example, the popularity of Western pop music in Vietnam was a source of prolonged tension running parallel to the Indochina wars taking place on their territory. In this period, the consumption of French music, like the songs Fiona grew up hearing, were considered a threat that in some cases was the grounds for state punishment. A notable exception to this phenomena was in the case of the Swedish pop sensation ABBA, due to Sweden's allyship with Vietnam during the Vietnam War. As diplomatic ties between the two countries grew stronger, the group's upbeat and optimistic brand of disco-pop was celebrated widely throughout Vietnam. To this day, their track Happy New Year, which is relatively unknown throughout Western countries, is a New Year's anthem in Vietnam, and even taught to students in primary school.

Part of the reason why love songs are so potent is because they preserve a moment in time, inscribing a feeling into something everlasting. Monumental events, whether they be of a caring or even a violent nature, leave a lasting impression. Lay All Your Love On Me features a second series of works by Fiona of abstract and landscape paintings exploring the idea of permanence and regrowth. Working with source imagery of former battlegrounds in the forests of Vietnam, Fiona depicts mutated flora and rusty, undetonated landmines—nonhuman witnesses to unthinkable suffering. Many of these ecosystems are still processing the damage of ecological warfare from US military missions like Operation Ranch Hand, which scattered potent herbicides over expanses of Vietnamese territory.

While traumas from the war persist globally for many, the changing landscapes signal a slow process of healing and regeneration to Fiona. As these ecosystems adapt and repair, so do the intergenerational communities most affected. In the exhibition, the healing of the land is directly related to the body. For both, the process may not be linear or easily detectable to others. It is an act of collective reckoning with heartbreak, and of finding hope after loss. In the same way that love—and love songs—can draw out a surprising flurry of contradictory feelings (love-hate, attraction-disgust, and so forth), Lay All Your Love On Me reflects on the layers of parallel and conflicting truths that come about as generations recover together.
Exhibition view
Exhibition view
Exhibition view
Exhibition view
Fighting for the Blues,
2022, oil on canvas, 21 x 26"
Detail:
Fighting for the Blues,
2022, oil on canvas, 21 x 26"
UXO I,
2022, oil on canvas, 11 x 14"
Adieu Jolie Candy,
2022, oil on canvas, 8 x 10"
Detail:
Adieu Jolie Candy,
2022, oil on canvas, 8 x 10"
UXO II,
2022, oil on canvas, 8 x 10"
Detail:
UXO II,
2022, oil on canvas, 8 x 10"
Wandering Soul,
2022, oil on canvas, 11 x 14"
Untitled,
2022, oil on canvas, 30 x 36"
Je pense à elle, elle pense à toi,
2022, colored pencils on paper, CD case, 5 x 5"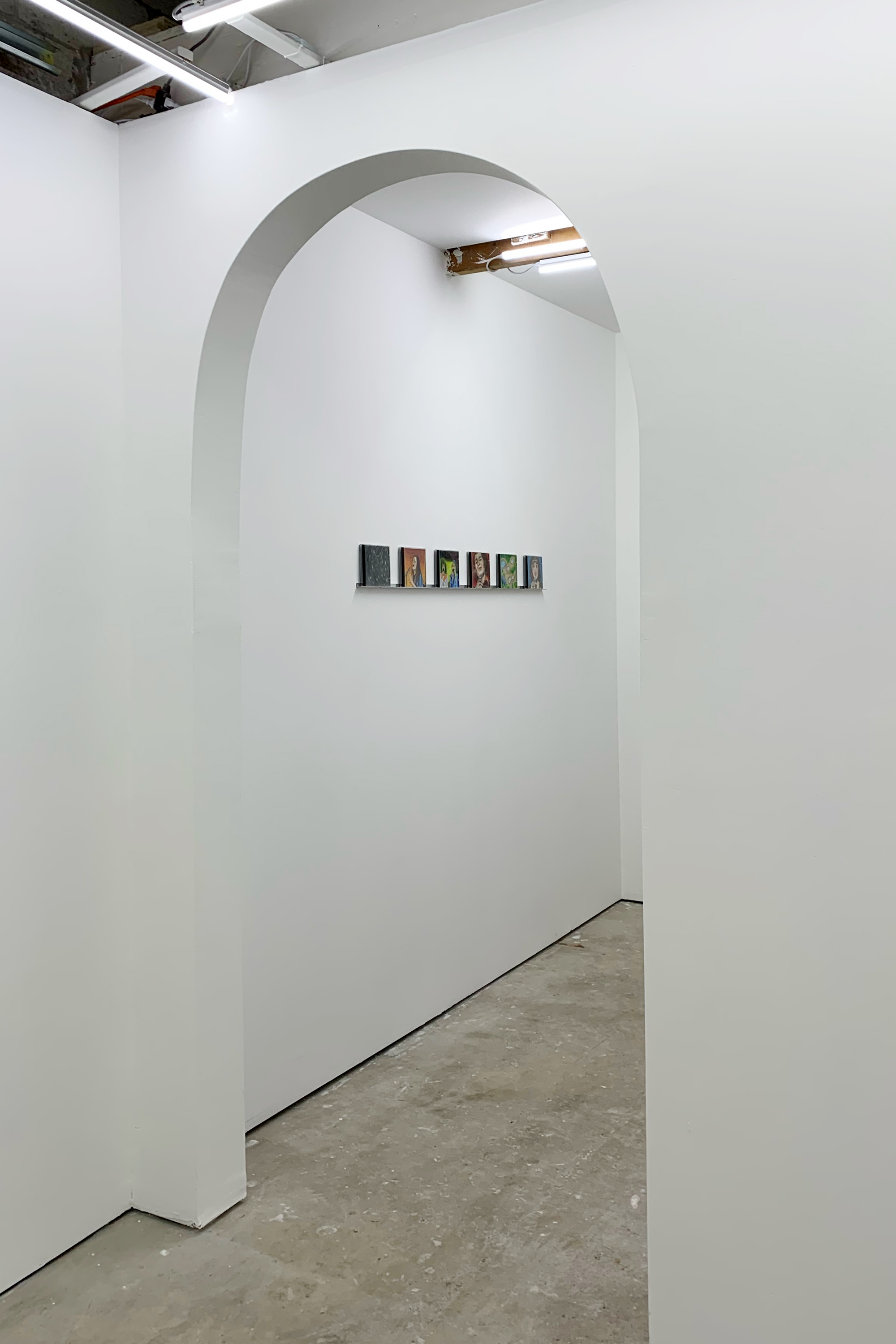 Exhibition view
Exhibition view
Exhibition view
Happy New Year II
, 2022, colored pencils on paper, CD case, 5 x 5"
Fou Rire
, 2022, colored pencils on paper, CD case, 5 x 5"
Happy New Year I
, 2022, colored pencils on paper, CD case, 5 x 5"
Et si tu n'existais pas
, 2022, colored pencils on paper, CD case, 5 x 5"
Bombturbation
, 2022, colored pencils on paper, CD case, 5 x 5"
Une femme amoureuse
, 2022, colored pencils on paper, CD case, 5 x 5"
Untitled
, 2022, oil on canvas, 16 x 20"
Detail:
Untitled
, 2022, oil on canvas, 16 x 20"
Exhibition view